I've just watched a BBC ONE documentary called '10 Things You Need To Know About Losing Weight', presented by science journalist (and qualified medical doctor) Michael Mosley.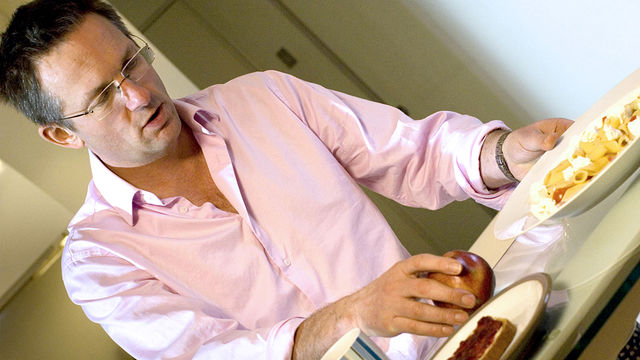 Michael Mosley
If you're in the UK, you can watch it on BBC iPlayer until Thursday
here
.
The doc (which was first shown in 2009) concentrates on the solid science behind effective weight loss and makes, in part, for eye-opening viewing, especially as I'm currently trying to lose weight.
Here are the ten things that Michael Mosley thinks you should know about losing weight:
1. Don't skip meals, especially breakfast, as it makes you crave more higher calorie food.
2. Use smaller plates to control portion size.
3. Count your calories.
4. Don't blame your metabolism.
5. Protein staves off hunger pangs.
6. Soup keeps you fuller for longer.
7. The wider the choice, the more you eat.
8. Low fat dairy actually helps you excrete more fat.
9. Exercise goes on burning fat even while you sleep.
10. Keep moving and lose weight – Just keep active.
It's well worth watching. There's a revealing section where actress
Debbie Chazen
- who can't understand why she is overweight despite her healthy diet - keeps a food diary and has her actual calorie intake checked. It turns out she's not eating the 1,500 Calories per day she thinks, but 3,000 - 1,000 more than her body actually needs!
But while weight loss may really be simple common sense, it's a fact that 95% of attempts at weight loss fail in the medium to long term. So it's not easy.
I think what it comes down to are three things:
1. Be honest about what you eat - and be wary of 'hidden' calories in sauces and drinks - and try to find ways of swapping high calorie favourites with tasty alternatives (eg roasted sweet potato for chips).


2. Exercise needs to play a part in any healthy lifestyle. Exercise will help to speed weight loss and it will also stop the body from breaking down muscle as it searches for energy to keep you going. Exercise can also be very useful as a way of 'making up' for unavoidable nights out, parties, etc!


3. In order to be sustainable, it has to be a lifestyle change - not just a crash diet - and it will need to be something you can enjoy, or you will never keep it up.
Good luck!