On holiday this week in Dorset and it seemed the perfect opportunity to introduce our 18-month-old son, Oscar, to the joys of the cycling...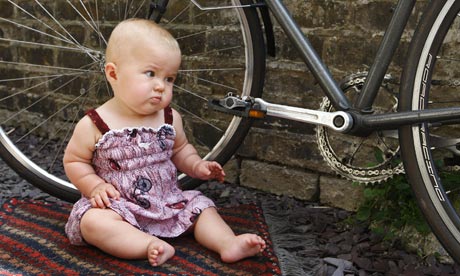 The long-term plan is to get him hooked on bike riding, eventually hoping to get him to want to cycle across America with me!
So we drove down to the New Forest where there are miles of beautiful, quiet trails - perfect for introducing a toddler to cycling.
Or so we thought...
We found a place which hires out bikes inside the New Forest,
Forest Leisure Cycling
, and got two bikes, one with a rack mounted seat at the back.
Oscar didn't seem that keen, especially with having a helmet on, but after a while seemed to be having an OK time. However, after a few miles of our - possibly optimistically-long route - he was starting to cry.
And as we got halfway he really started to howl - and carried on all the way home. It was impossible to turn around to reassure him and, eventually, I tried to go as fast as I could just to get to the end.
But, finally, we gave up and Clare waited with Oscar while I went the last couple of miles to collect the car and came back to pick them up.
So not the perfect start to his cycling career...