I've done a fair few cycle tours - Land's End to John O'Groats and Birmingham to the French Mediterranean among them - and my cycling ambition is one day to cycle America coast-to-coast.
But, reading about
Christoph Strasser's victory in the Race Across America
has rather put that - in fact, any cycling challenge right up to the Tour de France - in the shade. The Austrian former bicycle messenger took less than 8 days to complete the 3,000 mile route - that's nearly 400 miles a day!
Christoph Strasser - Pic: Lupi Spuma
I've driven across America and it took three weeks. Admittedly there was time for eating, sleeping and some light tourism, but there was an awful lot of time in the driving seat...
The Race Across America is, literally, an insane challenge and one that has led to deaths as well as exhaustion and delirium - as many of the riders sleep less than an hour a day to complete the course as soon as (super)humanly possible.
Jure Robic, a Slovenian soldier-turned-ultra-cyclist and five-time winner of the Race Across America,
believed he was being pursued by bearded men with guns, as well as bears and wolves, and occasionally dismounted to argue with mailboxes
. He died in 2010 while on a training ride on a narrow forest road.
"With the Tour de France, you stop at the end of the day — you rest, you get a massage, eat a meal, sleep and then start fresh the next day," says women's winner Leah Goldstein, a former Israeli commando. "But with RAAM, you don't. You're sleep deprived and disoriented."
Goldstein herself has suffered from Shermer's Neck - an ultra-cycling ailment where the cyclist's neck is no longer able to support the weight of the head. It's actually named after one of the early Race Across America riders, Michael Shermer.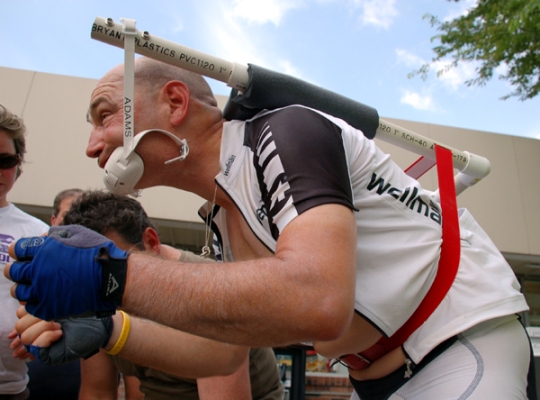 A Shermer's Neck Sufferer with home-made support
Only 200 people have completed the route in the allotted 12 days in the thirty year history of the Race Across America - amazingly one of them was 65 years old!
So well done Christoph Strasser, you've earned a lie down. But I think I'll stick to cycling that's a little more pleasurable...