Chris Froome blew the Tour de France apart today. After a week of edgy manoeuvring, and with only seconds separating the leading contenders, Froome is currently wearing the 'Maillot jaune' with a lead of over a minute on the nearest contender, Movistar's Alejandro Valverde.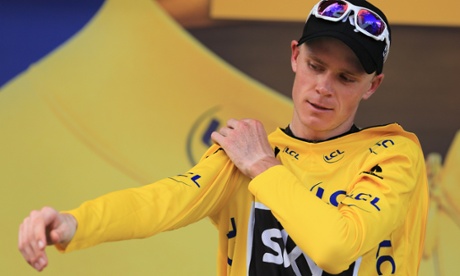 Chris Froome takes the Yellow Jersey
That may not sound like much, but Bradley Wiggins only won last year's Tour by 3 minutes and 21 seconds from his Sky teammate, ahem, Chris Froome...
It's another feather in the cap for Sky, lead by Dave Brailsford - who has also led Team GB's cyclists to such incredible success.
But I've not posted about this year's Tour yet because, to be honest, of a lack of excitement on my part. Without Wiggo there to defend his title - whether through injury or ennui - Chris Froome is the only real British hope to win (although he was born in Kenya and grew up in South Africa, only riding on a British licence from 2008).
And I do find Froome hard to like. In last year's Tour, Froome acted as Wiggins's 'super domestique', basically there to do his hard work for him and taking little of the glory. Not much fun, but that's how these things work - it's tradition and very like the F1 idea of 'team orders', where drivers allow their team's top driver to beat them in the hope that they will win the title.
But I found Froome rather graceless about his role in Wiggins's success last year, for example
his performance at Peyragudes
and his comments about
Wiggo's non-appearance at the tour this year
.
I've worked in PR for 20 years, including sports - for example looking after Channel 4's Ashes cricket coverage in 2005 as well as working with Premier League football clubs - and I understand the kind of ego-related battles that go on. But I think Froome has shown a lack of discipline as well as poor PR skills. Hopefully he will learn the skills that Wiggins displayed late year.
And I'm willing to lay all that to one side if Froome, who's an amazingly able cyclist, whether in the mountains or in time trials, can keep hold of the yellow jersey and win - in his own right and in style - in Paris...!